Financial literacy is important to credit unions – and it's important to Eltropy. According to creditunions.com, the one thing credit unions shared across the board was the priority they wanted to put on ensuring they educated their members on financial literacy . At Eltropy, one of our biggest goals is to aid our partners in revolutionizing their digital conversations from all aspects.
A credit union can only be as strong as their members, and more financially literate members means a stronger membership
With that being said, here are three ways you can utilize the Eltropy platform to increase your members financial literacy:
Create a Text Message Campaign with helpful links & articles
Whether it's curated in house or sourced from a trusted outlet, sharing helpful and important financial literacy tips is a great starting point for furthering your members education. Each week/month can be themed around topics such as wealth management, saving for the future, different types of accounts, filing taxes, and so on. With Eltropy, making a template with a secure link to uploaded documentation is fast and easy.
Send Fun and Interactive Quizzes with Potential Incentives
You may have used the quiz feature for document collection or loan processes, but what about for an actual quiz? Test your members financial acumen with a fun and interactive quiz they receive via text message.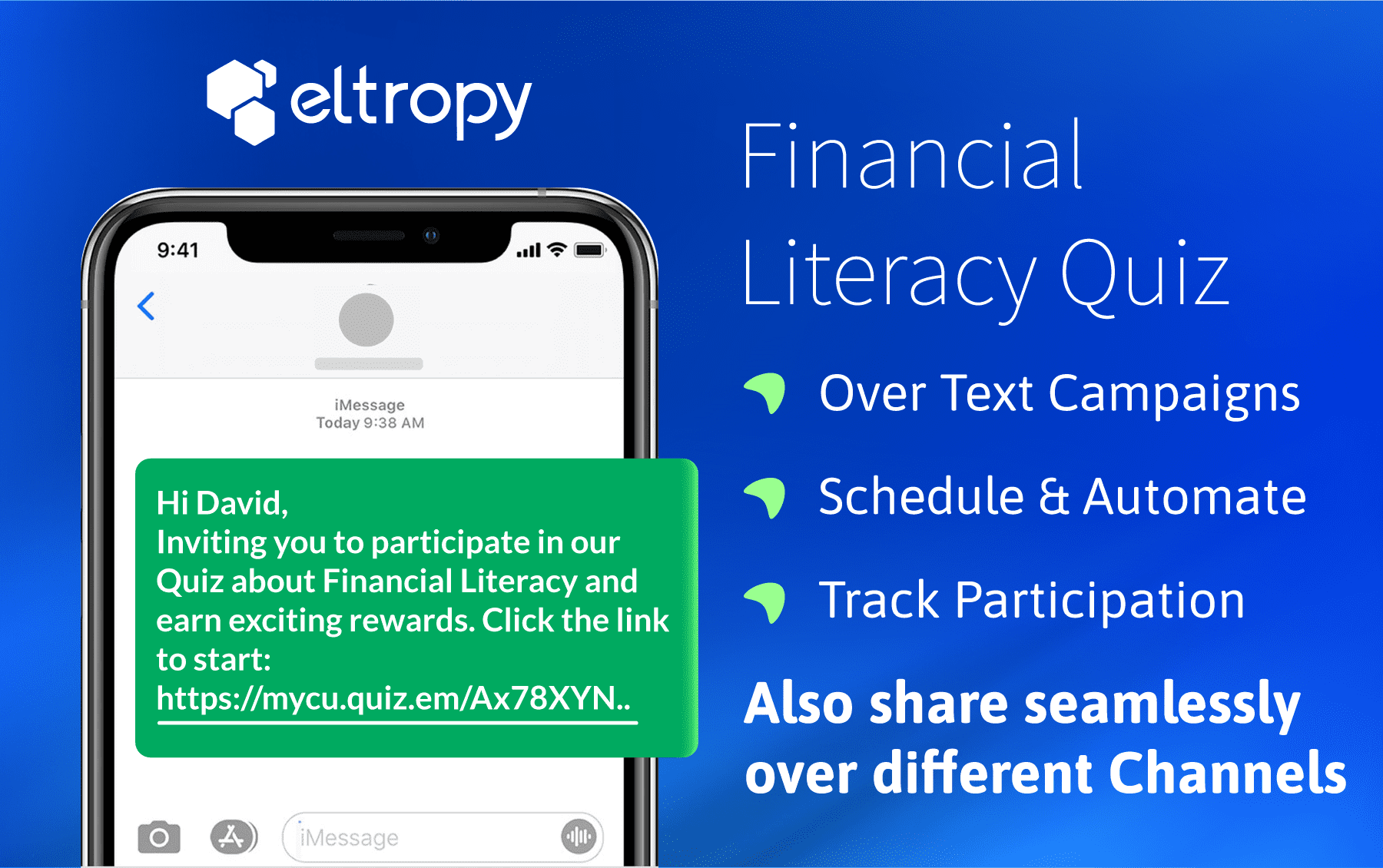 Promote an In Person Event
As Covid protocols allow, hosting a monthly, bi-annual, or annual event to encourage members to partake in financial literacy activities is a fun and engaging way to not only bring the community together, but an interactive method of educating members in a meaningful & impactful way. Much like with the weekly or monthly messaging campaign, utilizing
Eltropy's customizable templates is an easy way to promote an in person event. With the ability to create specific groups, you can even have specific events for specific demographics. For example, a younger audience may be more interested in learning about opening new accounts and managing debt while an older audience might be more in tune with a night on saving for retirement or college savings funds.
Request a Demo of Eltropy Platform today.