The Three Elements Branches are Considering Going Forward and How Eltropy Can Help
Our entire world as we know it is going through a shift from physical to digital; and the same can be said for the future of credit union's branches. With ever changing health regulations and a need to offer a wider range of services to members, branches are changing the way they think about their physical presence. An increase in the quality of service or availability of a branch no longer hinges on how big it may be, or how many staff members are on board. With Financial Institutions shrinking their square footage, but still maintaining and improving customer service levels, there are three key components that make up how branches are going to be shaped going forward.
Self Service
This shift has been in the works for some time now, and many branches have already implemented such use cases, like in the case of self-serve or drive-thru ATM options during hours in which a branch may not be open. But the opportunity to implement self-service elements in branches doesn't stop there. One method that has been gaining traction is an interactive teller machine (ITM). An ITM is an innovative new banking technology that allows a member to conduct teller transactions via video conferencing at the drive-thru without entering a branch or inside the lobby of the branch. This opens up a number of opportunities for branches to offer safer service and a wider range of hours & appointment availability.
Deepening Service
For appointment and member interaction that require more attention and specialized officers (applying for a loan, opening a new account, requesting investment advisor services), the digital shift is ever important as well. Most branches aren't equipped with a specific officer for every service they can provide at each individual branch, and centralizing those officers in a safe and efficient manner allows for branches to offer a wider range of availability for their members to book said appointments. Video conferencing has become paramount in centralizing specialized officers, and offers the same level of face to face interaction necessary for these types of deep, high level appointments.
Solutions Service
This element of service focuses on quick transactions and provides valuable problem-solving
for members. Speed is the name of the game going forward, and providing members not only with quicker service, but service that is tailored to their needs is a major focus for branches. Some Financial Institutions have started to implement Member Relationship Officers (MRO) as a replacement for teller lines. While nomenclature can change per institutions, the facets of their job remains the same. MRO's offer a heightened level of in-branch experience, and can serve as an extension of a branch's hospitality capabilities, like offering coffee or refreshments as a member waits for an appointment.
How Eltropy Can Help
With Eltropy's all encompassing omnichannel solution, branches are able to utilize Eltropy in aiding them with all three of the aforementioned elements. Eltropy's video banking solution is a perfect fit for any Financial Institution looking to add an ITM to their in branch offering. With the ability to seamlessly integrate a live secure chat or cobrowsing session, branches can offer that deepend service that simulates a side by side walk through of applying for a loan, opening account and more. Eltropy's appointment scheduling facet allows tellers or MROs to manage the flow of members who are coming into the branch to provide the highest level of customer service in the most timely manner.
The shift that branches are going through from strictly physical to a digital hub is here, and will only continue to go down the path of further digitization. With branches needing more options to engage their members in a quicker and safer manner, Eltropy is the all encompassing answer to the problems being faced.
From appointment management to integrated video banking, Eltropy is enabling branches to work more efficiently and focus on what matters most: their members.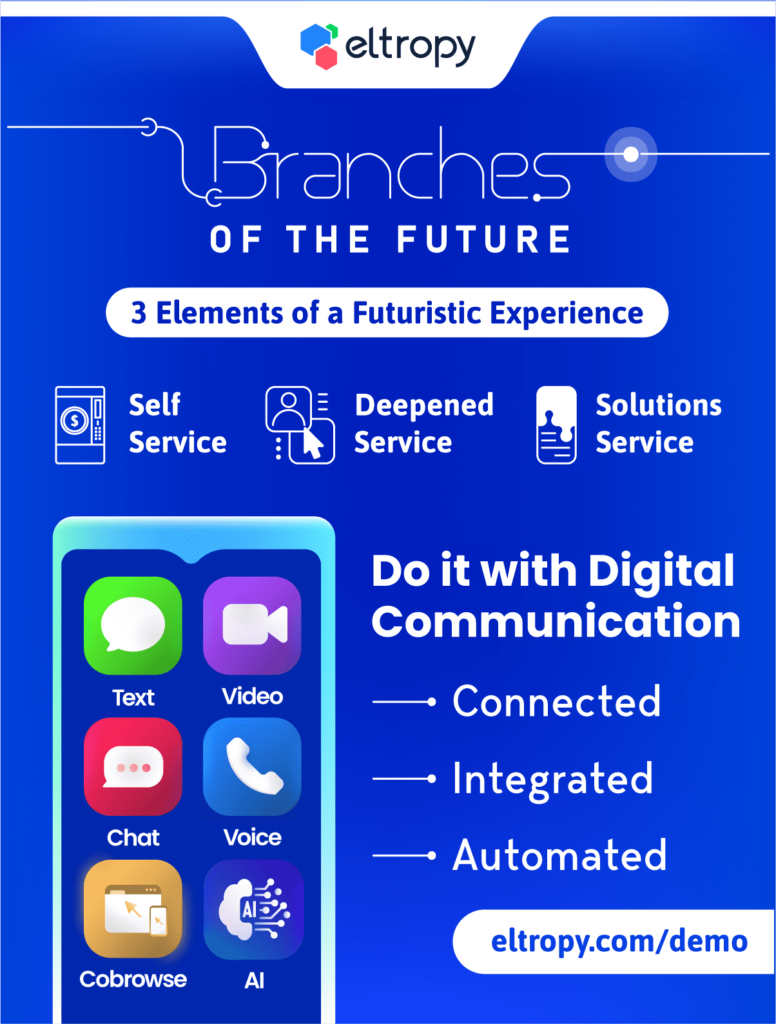 Want to learn more about how Eltropy is changing the digital communication space? Be sure to request a demo today.