Eltropy, an award-winning, compliant and secure digital communications platform serving more than 280 Financial Institutions, welcomes the hiring of our new Chief Revenue Officer, David Norton.
"David's addition to the team marks an exciting new chapter for us at team Eltropy," said Chief Executive Officer and Co-founder Ashish Garg.
"David's ability to build unicorn Go-To-Market organizations, along with his 20 plus years of experience, is something that we value incredibly highly. With the best product and best service in the marketplace, David's addition will further supercharge our ability to serve more Financial Institutions. Who are looking to digitally transform their customer/member communication during this pandemic era."
David holds an MBA from Northwestern University's Kellogg school of Management, with decades of industry experience selling SaaS solutions, big data analytics, AI and BI, data aggregation, and data platforms; in addition to building and leading firms in achieving hyper-growth through refining and scaling go-to-market strategies. In his work experience while at Xactware, Norton & his team achieved 10x aRR growth and grew market share from 30% to 85%. While at MX, a unicorn fintech, Dave played a key role in helping to build an exceptional team who doubled the revenue during his tenure and continues to have great success. Most recently with LiveView Technologies, Mr. Norton built a high performing Go-To-Market organization where his team tripled the company's recurring revenue & achieved a net retention rate of 155%.
"I'm honored to be a part of team Eltropy," said David Norton.
"The momentum, success, and growth Eltropy has generated in recent years has me excited for our future. This team has doubled our customer count year over year by creating raving fans. The best days are in front of us, and what a thrilling journey this is going to be!"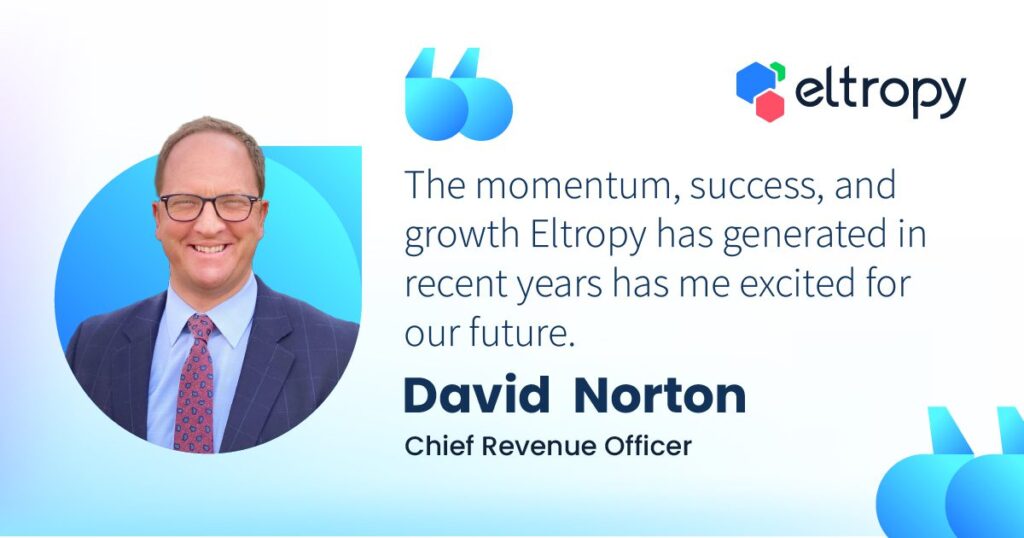 Mr. Norton will be overseeing the Go-To-Market strategy, operations, and team, with a heavy focus on winning at high volume and growing within our existing customer base. His responsibilities will include overseeing the operations from the sales and marketing departments, with a heavy focus on strong demand generation, implementing best in class systems, increasing strategic client engagement, and building a dedicated focus to solve critical challenges for our client's who care deeply for their members.
"Producing a world class team is one of my top priorities here at Eltropy, and I'm excited to see this team develop into just that," said David. The way we achieve this is through customer obsession, organizational alignment, leveling up and recruiting top talent, instilling proven processes and systems, and continuing to build a winning mindset and culture throughout the organization. The future is very bright here, and I'm thrilled to build something special with the talented and passionate team members of Eltropy."