To build a strong community means having strong communication with that community, in order to build trust and relationships. A community has historically been rooted in where people are physically located. Whether it be a community college, community garden, or community financial institution, people being in proximity of one another and communicating with one another has enabled different types of business communities to thrive. Now, people communicate differently, and the idea of community has changed. Online communities are more popular than ever before, with some of those communities being online only. This has happened in tandem with peoples communication preferences changing as well. Daily conversations are now dominated by text or video calls, with a lot less physical interaction. Even email and phone calls have started to fall into the category of 'outdated communication'.
With more options to communicate, Credit Unions are finding it harder to maintain and grow their communities. Between busier member schedules, changing health scenarios, or members moving to different states, not every member can make it into a branch. Furthermore, more and more members are embracing digital capabilities to make their banking lives easier from home, and may not want to come into a branch at all. With more aspects of life going digital, and more banking processes moving to online, utilizing Digital Communication to maintain and grow your member community is an integral part of a modern approach to community building, especially for Credit Unions. There are many benefits in utilizing Digital Communication for building and growing your member community.
Building on the Existing Community
There are many reasons behind why, but the future of in person branches is shifting to accommodate a more digital friendly atmosphere. In the past, in-person branches were the centerpiece for any financial institution, and represented a physical place where a community could grow. But with changing health scenarios and member availability changing, getting to a physical branch shouldn't be the only way to build and grow your community. Having a Digital Communications platform in place to communicate with members allows your financial institution to meet members on their preferred communication channels, like Text, a channel consumers prefer to message on 9/10. Being able to communicate more effectively with members is essential in building on the community you already have in place, by building trust with those members. More importantly, the more a member trusts your financial institution & feels a part of a stronger community, the more likely they are to utilize more of your services.
There is another group of members who rely on strong Digital Communications in order to be a part of the community: members who may have moved out of state. It's becoming increasingly rare that people & their families stay in the same place for their entire lives, between kids going to college or moving to a different city. This category of members who have been with you and want to still be connected to their community need to do so via Digital Communication; without it, there's no way for them to stay connected, and less reason for them to want to stay with your financial institution. Credit Unions are unique because they are hyper focused on serving the local community, and very rarely have physical locations available throughout the country. Without the ability to come into a branch, these members become almost completely virtual, and don't deserve to be left out of your community. Having a platform, like an omnichannel Digital Communications platform, in place to continue to provide persistent & seamless communication allows you to still strengthen your member community from wherever your members prefer to communicate. Being with your members, no matter where that member might end up, is what builds the strongest and most loyal communities.
Digitize your Processes with Eltropy Today
Growing & Reaching a New Demographic
Building upon your existing community is only one part of the equation, any strong community has a pipeline of prospective people that also want to be part of that community. For Credit Unions, this means engaging with the younger generations, Millennials and Gen-Z specifically. With the percent of the population becoming more Gen-Z with every passing day, Millennials have since passed Baby Boomers in terms of the largest generation, but the average Credit Union demographic doesn't reflect as such.
A study done by CUNA found that while people ages 18-24 account for close to 20% of the population, they make up less than 10% of Credit Union members.

Research done by CUinsights.com showed that while the average age of a Credit Union member is 47, the average age of a given American is 37.
To grow your community, these younger demographics have to be targeted; and the best way to target them is to reach them on their preferred digital channels. According to BAI, over 60% of both Millenials and Gen-Z said they would switch their primary accounts to a 'better digital experience'. Stereotypes aside, the younger generations love utilizing technology, and are usually more apt to try out newer technologies that older generations may give push back to.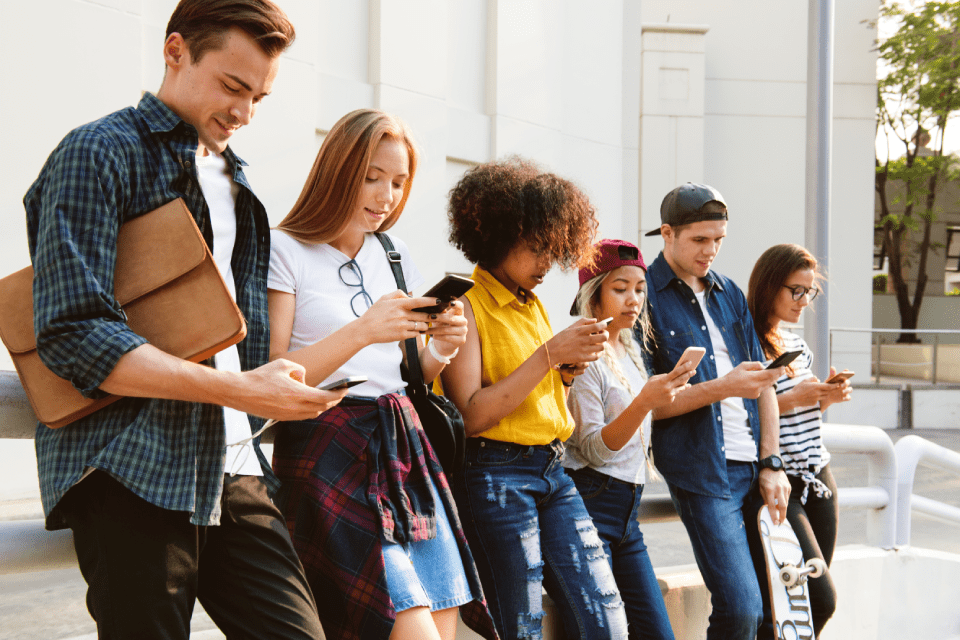 Adding Digital Communications to your community building strategy doesn't mean phasing out in-person branches or alienating older members; instead, it provides a tool for your financial institution to utilize to expand their communication capabilities, making all members' lives easier. If your efforts to communicate more using digital are detracting from your community instead of adding, it might be time to take a look at your strategy, or the software you've implemented.
An Omnichannel Digital Communication platform with seamless integration to all of its channel offerings, such as video, secure chat, text messaging, cobrowsing & AI, is the best solution in building and growing your community. A platform that is easy to use for both members and agents will drive growth from a younger generation excited about your technological capabilities, and will encourage current members to embrace its ease of use. Eltropy has partnered with over 300 Credit Unions and become the most trusted Digital Communications platform for the Credit Union movement. To learn more about how Eltropy is enabling our partners to build stronger communities with Digital Communication, request a demo today.