Since the acquisition of Marsview.ai, we've been touching on this unique solution in our communications. But we've never really taken the opportunity to give a comprehensive look at what exactly an IVA does, and how financial institutions could wield it to their advantage—especially when used in conjunction with Eltropy's Unified Digital Communications Platform.
What an IVA Could Do for You
By interacting with consumers in the channels they prefer—such as a website, online banking, or mobile app — Eltropy's IVA plays the essential role of easing the load on customer service teams. Powered by machine learning and natural language processing, the IVA can interact in a natural and conversational way, resolving many common customer inquiries and freeing up call centers to use Eltropy's Unified Digital Conversations Platform on more in-depth customer needs. With the ability to recognize thousands of utterances related to the most commonly asked questions at financial institutions, an IVA delivers a considerable amount of value to the customer experience. With a friendly, personable tone and rapid responses, it can field issues as they arise.
Examples of Inquiries that the IVA can Assist with:
"I can't remember my password."
"What are my branch hours?"
What's my routing number?"
"Where's the nearest ATM?"
"Debit card shipping time?"
"When will my deposit clear?"
"I'm locked out of my account."
Digital Tools With a Personal Touch
Allowing an IVA to interact with customers on behalf of your institution takes a certain level of trust. It's important that the software meets customer needs and effectively responds to questions. But it's equally important that your customers are willing to engage with the IVA in the first place. Making the technology approachable to the common user may seem like a tall order, but the IVA comes pre-trained right off the shelf, making it fast and easy to implement. To make the technology more engaging, financial institutions can do things like give the IVA its own name and profile image. This helps ensure that the IVA comes off as friendly and approachable, and also creates an opportunity to brand it as your own. By designing a user experience that feels natural to customers, you build rapport and brand loyalty.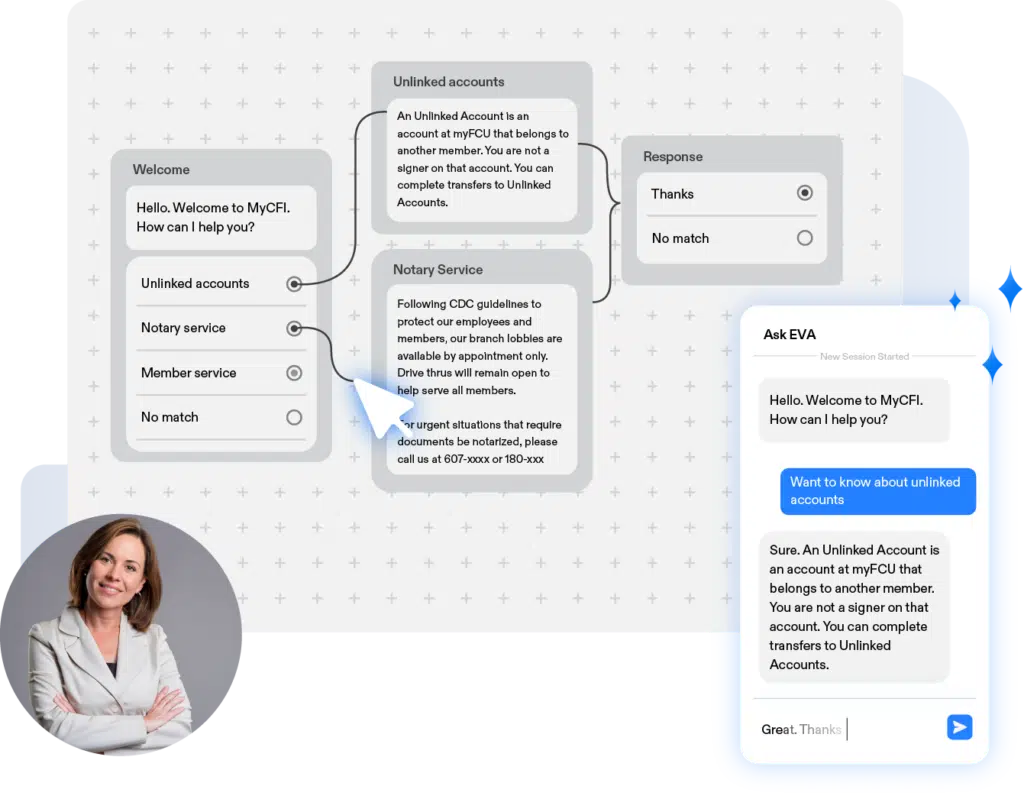 Looking to the Future
Because conversational AI is a technology that continues to evolve over time, an IVA is a solution that constantly improves, providing greater value as machine learning continues to enhance its responses. As a part of Eltropy's Unified Digital Conversations Platform, you can leverage the most convenient and comprehensive digital tools in the financial services industry. Commonly asked "nuisance questions" can be resolved without the interruption of your customer-facing staff, and more involved customer inquiries and transactions can be resolved using Eltropy's extensive digital tools, like collaborative video, co-browse, and more. With a Digital Conversations solution, you can provide digital services that are not only fast and convenient, but friendly and personalized as well.
Are you interested in learning more about easing the load on your call centers, preventing abandonment, and meeting customer needs as they arise? Let's talk.